What Are Dental Implants?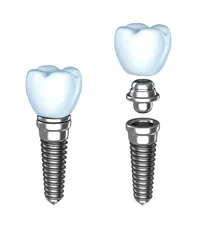 Implants are devices that are placed in the area of the jaw normally occupied by a tooth's root. Implant surfaces are manufactured to optimize healing of the bone around the dental implant. This healing process holds the implant in place.
Dental implants require an evaluation of your bone health, oral health and personal fitness to maximize a successful implant placement. In all cases, dental implants require good home care, just like normal teeth.
Are you interested in Implants?
Call Dr. Lowenguth at (585) 624-1917.